Saturday, November 18th, 2017 - Natalie's Coal Fired Pizza (website)
5601 North High Street
Worthington, OH 43085 (map)
(614) 436-2625

Webb and the Nashvegans to appear. 10pm start.


---

Sunday, November 19th, 2017 - Southgate House Sanctuary Room (website)
111 E. 6th Street
Newport, KY 41071 (map)
(859) 431-2201

Webb and the Beatnecks to appear. Start time is scheduled for 8pm.


---

Friday, December 8th, 2017 - Red Dragon Listening Room (SOLO) (website)
2401 Florida Boulevard
Baton Rouge, LA 70802 (map)
(225) 939-7783

This one is Webb, solo and acoustic. Showtime is 8pm.


---

Saturday, December 9th, 2017 - Chickie Wah Wah (SOLO) (website)
2828 Canal Street (map)
New Orleans, LA 70119
Phone: (504) 304-4714

Webb returns to Chickie Wah Wah for another solo-acoustic appearance. An 8pm start is anticipated.


---

Friday, January 5th, 2018 - City Winery (website)
609 Lafayette Street
Nashville, TN 37203 (map)
(615) 324-1010

Webb and the Beatnecks will play. 8pm start time. You can buy tickets on on this page.


---

Saturday, January 6th, 2018 - Down Home (website)
300 W. Main Street
Johnson City, TN 37604 (map)
(423) 929-9822

Webb and the Beatnecks will appear. Start time is 8pm. See you at the Cleanest Nightclub in America!


---

January 12th - 15th, 2018 - 30A Songwriters Festival (SOLO) (website)
Santa Rosa Beach, FL (map)

Webb returns to the 30A festival for solo performances! The 30A festival features 175 artists in 25 venues along Highway 30A in the Santa Rosa Beach and Seaside area.

Check with the 30A Festival Site for more venue information, artist performance times, and other details as they are made available.


---

Monday, January 22nd, 2018 - Outlaw Country Cruise (website)
Sailing from New Orleans, LA

Webb and the Beatnecks will be joining a ridiculously awesome lineup of Country and Americana talent, on this year's Outlaw Country Cruise! Check out the Cruise's website for information on how YOU can be part of this incredible event!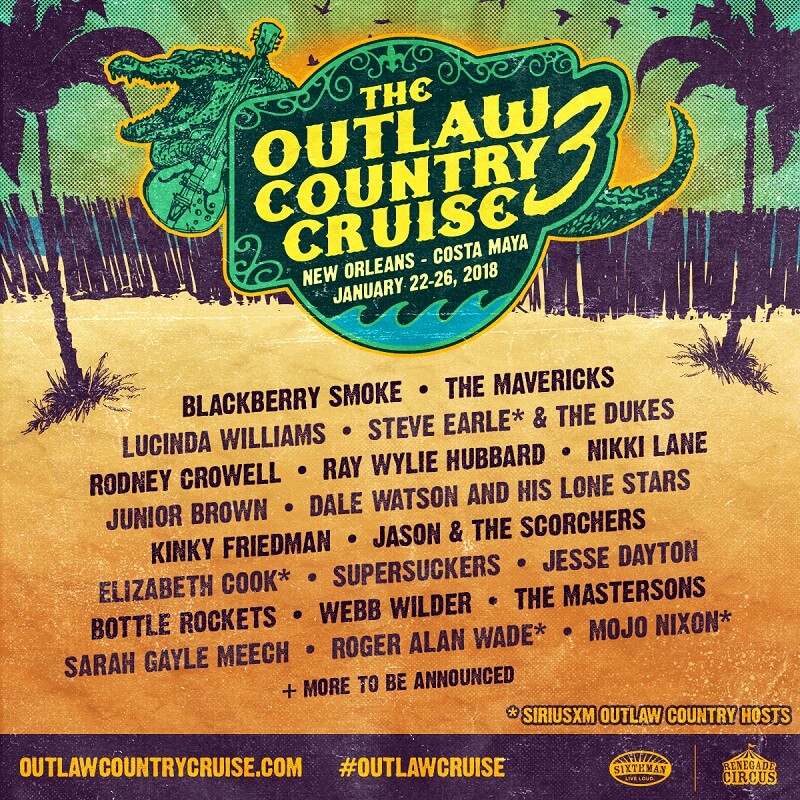 ---

Thursday, June 7th, 2018 - WUWF Radio Live (SOLO) (website)
Taking Place at the Museum of Commerce
201 E. Zaragoza Street
Pensacola, FL 32502 (map)
(850) 595-5985

Webb will appear solo as part of a songwriters night with 3 artists. Doors open at 5pm and the show starts at 6pm Central. Admission is $10.