WW Album "It Came From Nashville" makes Paste "50 Best" List [posted February 27th, 2018]...

Webb's seminal work, It Came From Nashville, was included in Paste Magazine's "50 Best Southern Rock Albums of All Time." Big names from Molly Hatchet to Bo Diddley, Lynyrd Skynrd and many more also appear on this list.

From the article:
Musically, it echoed any number of precedents—Elvis, Jerry Lee and Steve Earle (whose song "Devil's Right Hand" Wilder rendered with added urgency), chief among them. Likewise, rockabilly, cow punk and country caress were combined in equal measure, making for a rowdy and rousing rave-up that precludes any kind of passive encounter.
You can read the rest of the article at its source, Paste Magazine, by clicking this link.


---

"The Three Aces" to Tour UK, Germany, the Netherlands, and Sweden [posted September 5th, 2017]...

Coming this October! Webb Wilder will be teaming up with Warner Hodges and Eric Ambel, to tour the UK, Germany, Netherlands, and Sweden. Backed by a UK-based rhythm section, when Webb does his thing, he'll be playing as a trio, but there's a darn good chance there'll be more mixing it up with the others as the show progresses. Join Webb & Company all over the continent for some wholesome, rockin' fun!

A list of planned venues appears here, but be sure to review our Tour Dates page for links and any additional information that becomes available.

** 10/04/2017: Iron Road, Evesham UK.
** 10/05/2017: Thunderbolt, Bristol UK.
** 10/07/2017: The Green Hotel, Kinross UK.
** 10/09/2017: Bannermans, Edinburgh UK.
** 10/10/2017: The Musician, Leicester UK.
** 10/11/2017: Nells Jazz & Blues, London UK.
** 10/13/2017: Greystones, Sheffield UK.
** 10/15/2017: Tivoli, Utretcht, Netherlands.
** 10/16/2017: Music Star, Norderstedt Germany.
** 10/17/2017: Kulurakadmin, Motala Sweden.
** 10/18/2017: Sankt Gertrud, Malmo Sweden.
** 10/19/2017: Norrehus, Klippan Sweden.



---

Webb to be Featured in Grammy Museum Event [posted March 30nd, 2017]...

On April 10th, 2017, Webb will be interviewed, live and on-stage, and also featured in a special event in Los Angeles.

More about this event can be found on this Grammy Museum page, as well as our our own Tour Dates page.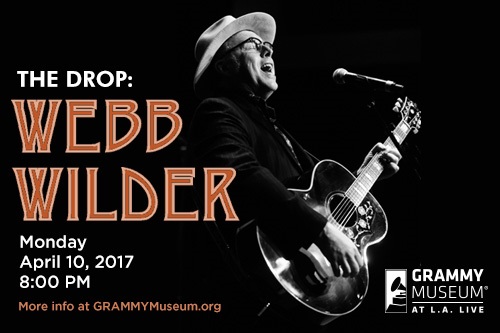 ---

Webb Is Hosting a New Americana Chart Show, "The List" [posted March 22nd, 2017]...

Recently, Webb began a new broadcast endeavor, in conjunction with Tennessee station WMOT-FM Radio, FM 89.5.

Webb's new show, "The List: The Americana Chart Show" airs Fridays at 2pm Central time, and again at 7am on Saturdays. Each week, Webb shares his perspective on the albums occupying the official chart of the Americana Music Association.

WMOT serves the Nashville-Murfreesboro area. Transmitting with 100,000 watts, WMOT is especially unique in that it's the area's first 100% Americana station, covering the region with music that spans genres and generations. You can visit their site at http://www.rootsradio.com, where you can also listen to a live stream of their broadcast!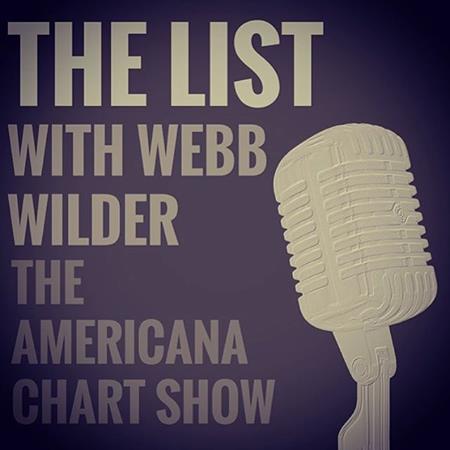 ---

Webb Featured in "Still Rockin'..." Article [posted March 9th, 2017]...

This week, the Lincoln Journal-Star featured Webb, including an interview with him, in an article entitled "Webb Wilder Still Rockin' 30 Years After It Came From Nashville." You can read the full article on their site. In the meantime, here's an excerpt:
Three decades ago, Webb Wilder turned loose It Came From Nashville, a ear-catching slab o' wax that instantly made him a rock'n'roll contender. Nine albums, a handful of movies and a stint as one of the first satellite radio disc jockeys later, Wilder is still out playing his brand of rock'n'roll long after many of his contemporaries have hung up their travelling shoes.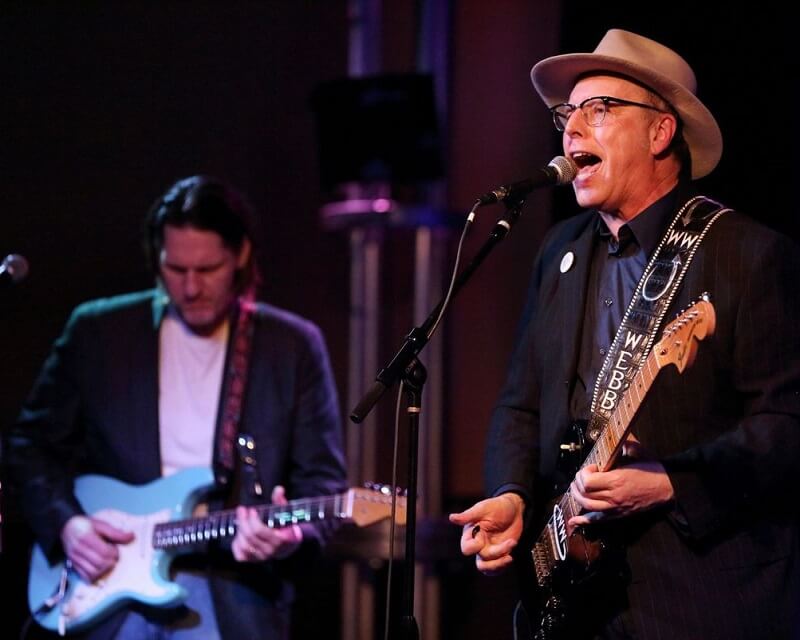 ---

PBS "Mississippi Roads" Segment Features Webb and his History [posted November 7th, 2016]...

Webb was recently featured on an episode of Mississippi Roads entitled "Music Masters." Also featuring interviews with a bevy of the usual suspects, this installment details a lot about the genesis of Webb's career, music, and public persona.

Not to be missed! You watch the video by clicking here.


---

Webb to Join In for Sam Phillips Tribute Concert on May 28th [posted May 11th, 2016]...

The Country Music Hall of Fame and Museum has announced an event celebrating legendary producer and Sun Records founder Sam Phillips, as well as the exhibit dedicated to him currently ongoing at the CMHOF Museum. And Webb will be joining in!

One of the most innovative and inspiring figures in the history of American music, Sam Phillips introduced the world to Johnny Cash, Howlin' Wolf, Jerry Lee Lewis, Roy Orbison, Carl Perkins, Elvis Presley, Charlie Rich, Rufus Thomas, Ike Turner and many more. Blurring class and color lines, Phillips set out to undermine barriers of racial segregation and discrimination, just as the Civil Rights movement gathered force.

As to the concert event, it will be titled "Boppin' the Blues: A Celebration of Sam Phillips," and is taking place Saturday, May 28th, 2016, at the Museum's CMA Theater. Featured performers will include Webb, J.D. McPherson, the Planet Rockers, and Margo Price. After the show, these Rockabilly, Country and Rock & Roll artists will all sign a commemorative Hatch Show Print poster, which will be available at the museum store.

Plans are for a 2pm start. Tickets are available from Ticketfly, or by calling (615) 416-2001. But if you can't attend in person, CMHOF plans to live-stream the event.

On June 12th, the exhibit, titled "Flying Saucers Rock & Roll: The Cosmic Genius of Sam Phillips," will be ending its run at the Museum. Co-curated by Presley biographer Peter Guralnick, author of the biography Sam Phillips: The Man Who Invented Rock 'N' Roll, the exhibition takes an in-depth look at Phillips and the social and cultural impact of the music he captured on such revolutionary recordings as Jackie Brenston's "Rocket 88," Elvis Presley's "That's All Right," and Johnny Cash's "I Walk the Line."



---

Webb adds solo UK and Sweden dates to 2016 European Trip! [posted March 1st, 2016]...

Following the Beatnecks' Spain trip this April, Webb will be heading over to the UK for a number of SOLO engagements! In addition to the UK appearances, Webb will also be doing one date in Sweden.

The following dates, venues, and websites are as we know them to be, as of present. Information may change as time passes. Please watch our Tour Dates page for additional information, as it becomes available!

** 4/19/16: THE CLUNY, Newcastle Upon Tyne, UK. http://www.skiddle.com/whats-on/Newcastle-on-Tyne/The-Cluny/...
** 4/20/16: GREYSTONES, Sheffield, UK. http://www.cliffordevents.co.uk/WW.htm
** 4/21/16: BOOTLEGGERS, Kendal, UK. http://www.bootleggersbar.com/
** 4/22/16: GREEN HOTEL, Kinross, UK. http://mundellmusic.com/live-music/webb-wilder-tennessee-to-kinross/
** 4/23/16: 7 ARTS CHAPEL, Leeds, UK. http://www.sevenleeds.co.uk/
** 4/26/16: FOLK A ROCK, Malmo, Sweden. http://folkarock.se/wp/



---

Webb and the Beatnecks to Tour Spain in April 2016 [posted January 7th, 2016]...

Webb Wilder and the Beatnecks head for SPAIN in April!

The following dates, venues, and websites are preliminary. Information may change, or new information may be added, as April approaches. Please watch our Tour Dates page for additional information, as it becomes available!

** 4/7/16: MOBY DICK, Madrid. http://www.mobydickclub.com/
** 4/8/16: SALA CAPITOL, Santiago. http://www.salacapitol.com/
** 4/9/16: AMC PEPE BOCANEGRA, Valles. http://amcppbocanegra.blogspot.com.es/
** 4/10/16: VENUE TBC, Santander. http://loshuesosdeportobello.es/
** 4/12/16: KAFE ANTZOKIA, Bilbao. http://www.kafeantzokia.eus/
** 4/13/16: LA LEY SECA, Zaragoza. http://www.laleyseca.com/
** 4/14/16: LES ENFANTS, Barcelona. http://www.lesenfants.es/
** 4/15/16: 16 TONELADAS, Valencia. http://www.16toneladas.com/ (w/Stepwater Band)
** 4/16/16: SALA TOMAN, Reus. http://www.salatoman.com/ (please note: this is an updated venue)
** 4/17/16: SALA STAR, Tarazona de la Mancha. https://www.facebook.com/star.tarazonadelamancha


---

Webb's Wit and Wisdom in Guitar Player [posted March 29th, 2016]...

Webb has a nice interview in Guitar Player magazine for March 2016.

It's available on their website, which you can check out by clicking here.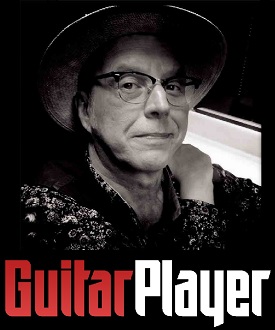 ---

Webb Fest Ten to take place November 14th, 2015 in Nashville! [posted October 19th, 2015]...

It's that time of year again! WEBB FEST TEN is coming!

For the first time EVER, Webb Fest will be in Nashville, Tennessee, home of WW & the Beatnecks! The big event takes place Saturday, November 14th, and will be at the famous Exit/In music venue! A whole lot more information is available on the full Event Details page, which you can see by clicking here.

Join us in Nashville in November, for what is sure to be a great time, enjoying music and fellowship with the band and your fellow WW fans!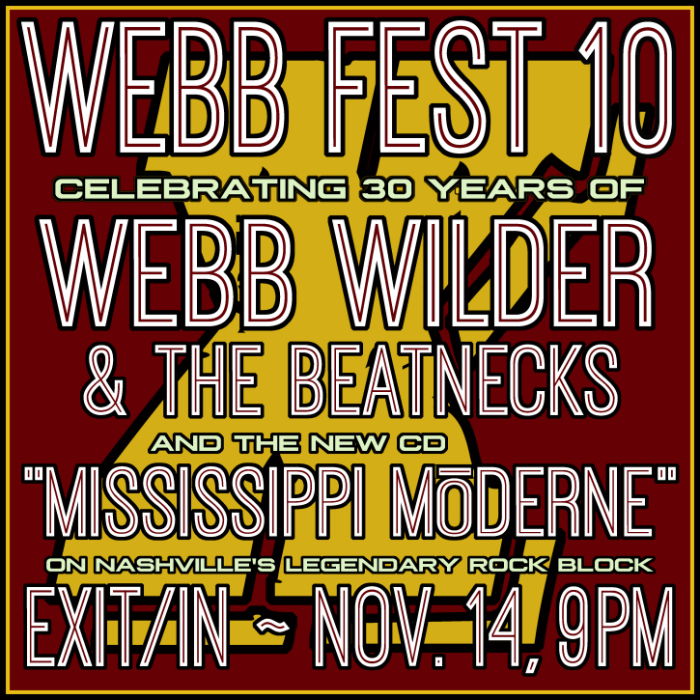 Event poster - click for larger version!


---

"Mississippi Moderne," to be released September 25th, 2015! [posted August 11th, 2015]...

On September 25th, Landslide Records will release "Mississippi Moderne," the first album of new music from Webb Wilder in over five years!

A beautifully woven combination of new originals and classic covers,"Mississippi Moderne" is the latest link in a chain of classic WW releases that began in 1987 with "It Came From Nashville." Joining Webb are many of "the usual suspects" including The Beatnecks (Jimmy Lester, Tom Comet & Bob Williams) as well as WW veterans George Bradfute, Greg Morrow, and Joe V. McMahan.

Amazon is taking advance orders, but rest assured, we will have them here at webbwilder.com too, as soon as we can. Two songs, "Yard Dog" and "Lucy Mae Blues" are currently available for downloads at iTunes and Amazon.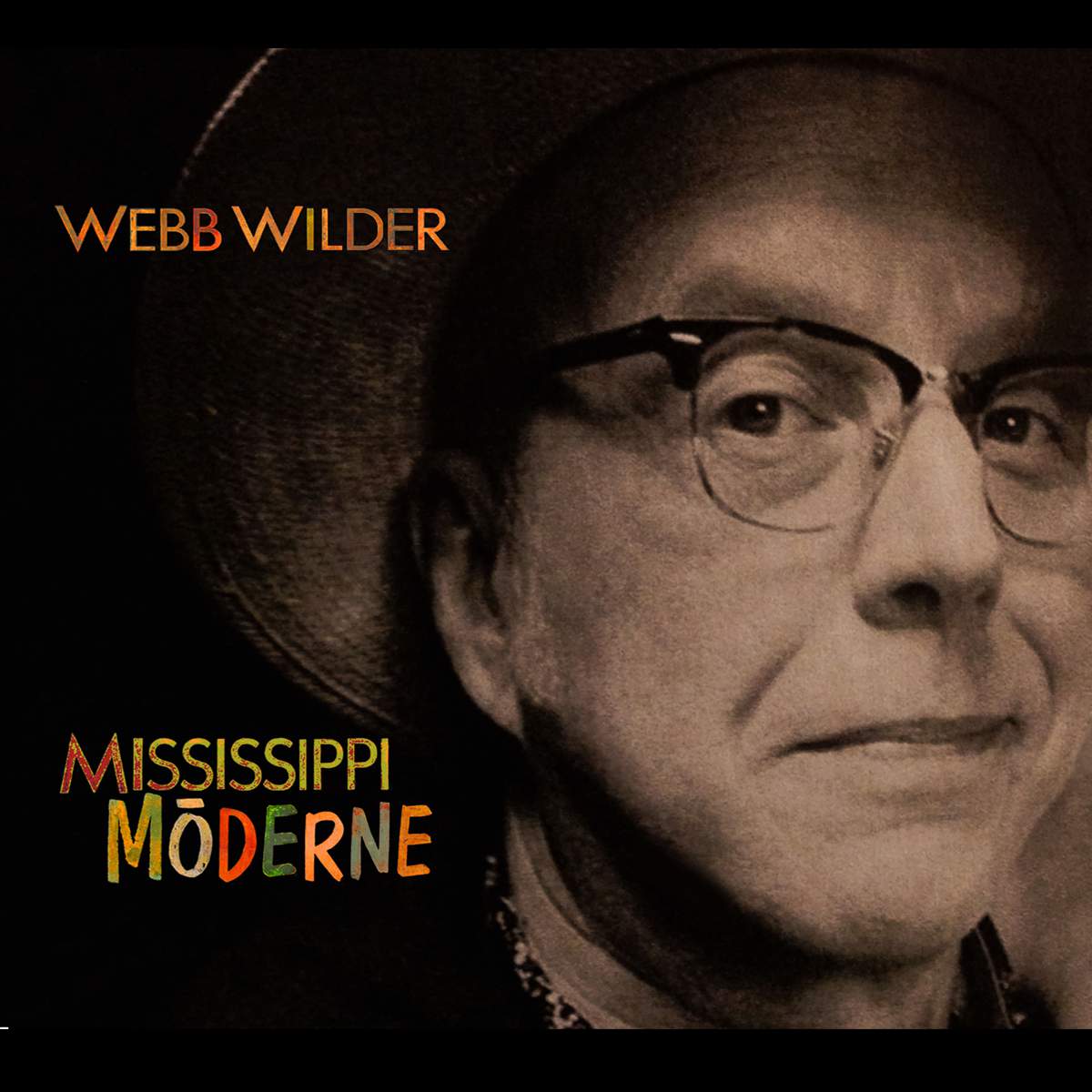 "Mississippi Moderne" Cover Art
---

"Orange Couch" gets a Youtube Channel [posted January 22nd, 2014]...

Webb's show on StageIt.com, "The Orange Couch" is off to a great start, and now has it's own YouTube channel!

Check it out here: https://www.youtube.com/user/orangecouchshow

Other "Orange Couch" links we've shared in our mailings also include:
• The Orange Couch site
• Facebook
• Twitter


---

Webb Wilder Fan Fest Eight is Coming (2013) [posted June 10th, 2013]...

The time for Webb Fest is once again almost upon us! This time around is our eighth straight year!

Webb and the boys are coming back to Bowling Green, Kentucky for another go-'round on Saturday, October 5th, 2013. The Warehouse at Mt. Victor is once again the venue of choice.

Full details can be found by clicking here.


---

New Book Mentions Webb Wilder [posted February 8th, 2013]...

Rev. Keith Gordon's new book, The Other Side of Nashville, includes material sourced from interviewing Webb. Check out the story found here for more details.


---

Webb's Pal Farmer Jason Gets Reviewed in the UK Telegraph [posted June 24th, 2012]...
As many of you know, Webb is a frequent collaborator with our friend Jason Ringenberg, AKA "Farmer Jason," also known for his rock-and-roll handiwork with Jason and the Scorchers.

Earlier this year, Farmer Jason. along with a colorful group of guests including Webb, Mike Mills (of REM fame), Todd Snider, and Iris DeMent, and others, released a new CD entitled "Nature Jams."

This unique production has since received a nice write-up by a critic with the UK's Telegraph. You can check that review out, by clicking here. Neat stuff, pick up on it!


---

Press from the Fijian Cultural Tour [September 15th, 2011]...
As you may know, Webb and the guys are currently serving as cultural ambassadors to Fiji, taking their unique brand of Swampadelic bliss overseas to share with the island nation.

The Fiji Times has published a story about this mini-tour, complete with a neat photo (and we're hoping more turn up). You can check that story out by clicking here. Don't forget to click the pic, to see a bigger version.

They also published this article the week before, noting Webb and the Beatnecks' arrival.

Credit for finding both of these articles goes to WW documentarian Hunter Goatley. Nice work!


---

Webb Wilder Fan Fest SIX! [posted July 18th, 2011]...
Are you READY? It's almost that time of year again. Here it comes, bigger and better than ever, it's WEBB FEST SIX!

This year's Webbfest will be on Saturday, October 1st, 2011. The Capitol Arts Theater in Bowling Green, Kentucky is on a roll, and will be the venue of choice once again.

Full details can be found by clicking here.


---

MS Musicians Hall of Fame Induction Ceremony Pics [Tuesday, January 11th, 2011]...
Webb's induction into the Mississippi Musicians' Hall of Fame took place on January 18th.

The event was photographed and the Hall of Fame sent us the photos. You can view these photos, by clicking here.

The following inductees people were present, (or represented by family members:
** Webb Wilder
** Dr. Benjamin Wright
** Gayle Dean Wardlow
** Dardanelle Hadley (family)
** Delaney Bramlett (family)
** David Banner (family)

Also inducted, but not attending, were:
** LeAnn Rimes
** Keith Carlock
** Jim Dickinson
** Tyrone Davis
** Steve Rouse
** Paul Overstreet
** Elmore James
** Mickey Gilley
** Pilgrim Jubilees
** Paul Davis
** William Brown
** Rufus Thompson
** Clyde Otis
** Bob Pittman

Also in attendance were past inductees Dorothy Moore and Ace Cannon.


---

Webb To Enter Mississippi Musicians' Hall of Fame [Tuesday, January 11th, 2011]...
Next Tuesday, January 18th, 2011, Webb Wilder will take part in this year's Mississippi Musicians' Hall of Fame induction ceremony, and become an inductee! This is an enormous honor, and is bestowed upon only a small handful of respected and beloved artists whose roots run deep in the state of Mississippi.

A press release with full details can be found by clicking here.

There's also a nice article at Country Standard Time about this huge honor... (thanks, Glen!).

And finally, you might also want to visit the Hall of Fame's website for a closer look at the inductees section. Webb is joining a very exclusive group!


---

Webb Wilder Fan Fest FIVE! [July 20th, 2010]...
It is almost that time of year again! WATCH OUT, here comes the LANDMARK FIFTH ANNUAL Webb Wilder Fan Fest!

The big event will be on Saturday, October 2nd, 2010. The Capitol Arts Theater in Bowling Green, Kentucky was such a great place for Webb Fest, this year's 'fest is gonna take place there one more time!

Full details can be found by clicking here.


---

Aldo Kerfeld and Like The Dew cover "Hillbillies for Haiti" [February 11th, 2010]...
This upcoming week, Webb and a talented, multi-genre army of musical performers are pulling out all the stops to support Haitian earthquake victims. "Hillbillies for Haiti" will take place Tuesday, February 16th, 2010 at the Mercy Lounge in Nashville.

Online journal Like the Dew and blogger Aldo Kerfeld each have published a human interest piece about this event. You can read them here:

Aldo Kerfeld's Weekend Revue
Like The Dew



---

Webb Pops Up in Martin Guitar's Newsletter [January 21st, 2010]...
The January 2010 issue of the Martin Guitar official newsletter features a picture of Webb (From his "She's Not Romantic" video by Steve Mims) along with a short commentary. You can check it out here, on page 13. Please note, the newsletter is in PDF format. Adobe Acrobat Reader or another PDF reader is required.

Also worth mentioning: Martin's newsletter back issues can be found here... but if you're on dialup, brace for impact! Some are nearly 10MB in size.


---

Webb on the Cover of Alternative Root [November 30th, 2009]...
November's cover of Alternative Root magazine features a slideshow that includes of Webb, Son Volt, Yarn and the Bottlerockets. Check it out!



And click the pic to visit their website!
Their article about Webb starts on page 70.



The article they've got about Webb, starts on page 70.


---

Webb Appears on New Disney "Cars" related CD [September 10th, 2009]...
As you may already know, Webb's performance of "I've Been Everywhere" was included on Disney's 2006 CD "Lightning McQueen's Fast Tracks."

Now, three years later, they're releasing a new Cars-related assortment, named appropriately enough, "Mater's Car Tunes," and once again Webb's on it! He performs the vocals on "Rosie's Place." You can hear a sample on Amazon.com.

Also, watch this space for more on this subject. Word is the Tennessean and Disney's website have some press coming up regarding this release, and we're working on getting some links to those.


---

Webb Featured in Elmore Magazine Review [August 25th, 2009]...
Webb's received a nice write-up in the September/October 2009 issue of Elmore Magazine. The text is available here.

We also recommend you visit Elmore Magazine's website, which is chock full of American Music goodness!!


---

Independence Weekend Simulcast on Lightning 100 [June 9th, 2009]...
Webb and the guys will be playing Third and Lindsley on July 5th, the Independence Day holiday weekend. This gig starts at 9pm Central, and will be broadcast simultaneously on 100.1 FM, Nashville's Independent Radio, Lightning 100.

Check out their website's "listen live" page by clicking here!


---

Webb Wilder Fan Fest #4, Coming in October! [May 1st, 2009]...
We are pleased to announce that there will be a FOURTH edition of the ever-popular Webb Wilder Fan Fest! This time around, the date is Saturday, October 3rd, and the place is Bowling Green, Kentucky, at the Capitol Arts Theater.

Co-founder and organizer Tater Bodine (AKA Jim Chandler) has posted a thread with the initial details on the Webb Board. You can read it by clicking here. This event is now also listed on the Tour Dates page (see October 3rd).



This year's Webb Fest venue, the Capitol Arts Theater! Click for an expanded view.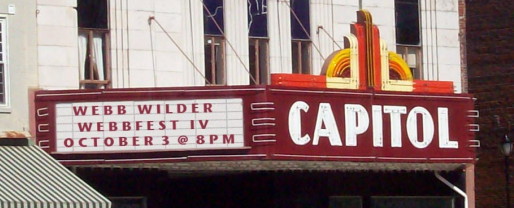 ---

Webb to Guest on The Lowdown Hoedown 5/4/09 [May 1st, 2009]...
On Monday, May 4th, Webb will be doing a phone-in interview to Greg Martin's weekly "Lowdown Hoedown" Radio program. The theme for the program will be "The Blues Influences of Webb Wilder."

The program airs on D93, WDNS in Bowling Green, KY, every Monday from 7-10pm. The WDNS website is located here, and Greg Martin's Lowdown Hoedown website is available here.


---

Webb and MLM, Featured on Guitarmania Tomorrow [April 22nd, 2009]...
This week's episode of Andy Ellis' Guitarmania program will include Webb (and his new album, More Like Me) as his featured artist! Several tracks will air, and Andy did an interview with Webb as well.

Please visit their website at GuitarManiaShow.com to find out where you can listen in, whether by radio or the internet.